Dear AIGA Members,
Hope this e-mail finds you well. Summer is upon us, and we're (AIGA Knoxville) going through our planning and staging period. As we work through the next year's programming, thought I'd send a message with thoughts on this past year's Design Week.
This was my first Design Week as President, third as a Board Member. Design Week is always a crapshoot. We try to program what we think folks will enjoy, and expect the best. This year was no different.
Our efforts in the past year have been to branch out. We figure you all get bombarded by the same design-speak and messaging through Twitter, Facebook, design blogs, etc, etc, etc. Which is why we started with more parallel programming. Things that are adjacent to our field, but not strictly design.
This year's Design Week started off with a screening of Finding Vivian Meyer. What we lacked in audience, we made up for in discussion. Through the days after, the film kept coming back up. For this, we're thinking of holding discussions after any film screenings to garner different perspectives. Huge thanks to Savory & Sweet Food Truck for coming out!
The second day was our first foray in partnering with the newly formed Striped Light. The team at Striped Light were knowledgable, helpful, and wonderful to work with. We look forward to many years of working with them on holding letterpress classes. Thank you to the folks at Striped Light for supporting AIGA Knoxville!
Our Wednesday programming was a curve ball. We had to pivot, change plans, just two weeks prior to Design Week. Out of that came our Panel Discussions night. Very interesting conversations that night, we hope to program panel discussions as a regular occurrence. Thank you to Justin Hudson, Channing Bailey, Sean Alsobrooks, Dan Lipe, Tommy Smith, Tuyen Ho, Hannah Slaughter, Ben Hubbard, Adam Kennedy, Bree Smith, and Chris Hill for participating in the panels. Also thank you to everyone who submitted interesting questions. Huge thanks to Mr. Liston from Straight Off the Grill BBQ for coming out!
Next we held our second-ever partnership with PechaKucha. Last year's PK night was so wonderful, we had to do it again. Thank you to Jack Neely, Carie Burchfield-Ofori, Kirk Eddlemon, Jessie Williams, Kelly Shipe, Gregor Smee, Beth Meadows, and Carl Gombert. Your all's presentations were informative, eye-opening, and sometimes hilarious. Huge thanks to Dale's Fried Pies for coming out!
For the grand finale we held our second annual Budding Creativity art benefit. This year we did a couple things different. First, we opened up to donated pieces from professionals. There are literally too many to mention here. You know who you are, and we cannot thank you all enough. Secondly, we partnered withAAF (AdFed) Knoxville. In joining with AdFed, we split the money raised to also benefit the Sam Littleton scholarship. This year we were able to bring in almost $2,500! Our portion of the money went to Carter High School's art program. We were able to purchase digital cameras for kid's who cannot afford their own. Next year we hope to eclipse this year's intake, and keep it growing from year to year! Special thanks to our sponsors for allowing 100% of the money raised to go back into the community: Yazoo Brewing Company, All Occasion Catering, Paulk + Co., Virginia Adams, Jerry's Artarama, and Avenue Factory!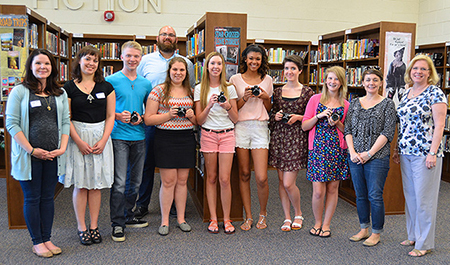 Also a big thanks to Ijams Nature Center for hosting three of our Design Week nights!
Most of all, thank you all for participating. From the Board Members who put on the programming, to the folks that attended. I truly appreciate all your efforts in growing Knoxville's creative community. If you would ever like to reach out, let us know how we're we're doing or how we can improve, please feel free to shoot me an e-mail at president@knoxville.aiga.org.
Thank you,
Jody Collins
President
AIGA Knoxville
president@knoxville.aiga.org